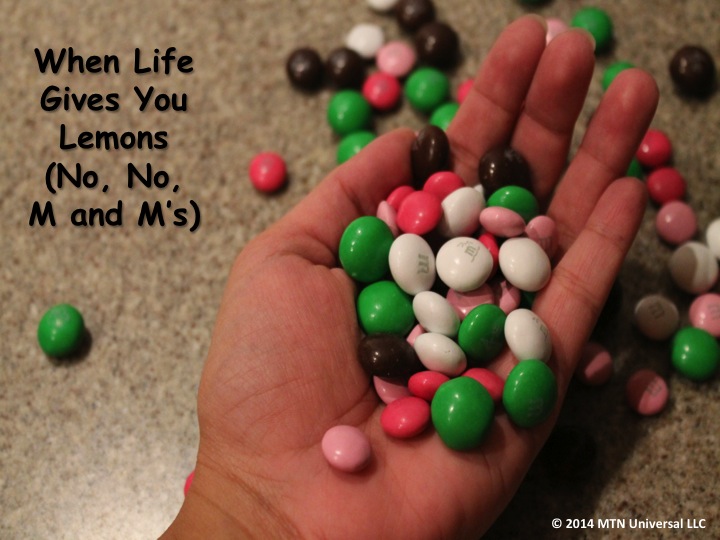 You've heard the saying, "when life gives you lemons, make lemonade." Well, what do you do when life gives you M and M's?
You may think for today's topic, we are talking about perspective or you may be thinking we are going to talk about the always favorite, never gets old, and yes oh yes, CHOCOLATE Candies – M&Ms (peanut M&Ms; even better, Peanut Butter M&Ms = YUM!), but not today.
So let's get back to the question at hand – what do you do when life gives you M and M's?
You Make Memories of course!
Nowadays, pretty much everyone has a mobile phone with a camera to take photos and capture video footage.  I absolutely love my camera phone, but I am more attached to my DSLR Camera.  My camera is a must-go-everywhere passenger!  It must always be fully charged with memory card space available!
I stand on guard, listening and ready to press the red camera phone button or the camera button because I am so passionate about M and M's!  Just this morning, my son sang a song to the beat of his own tune and his heart's delight, with only the words of "Thank You Jesus!"
Not only did I press that red button on my phone to record his singing voice, but that memory also made me reflect on his very simple song!  That was my M and M moment for the morning.
The importance of M and M's is especially important for you, but even more so for your children.  Making memories with your children, family, and friends allows for mental pictures to be captured and reserved in the inner workings of your brain for perfect timing recall.
Think about a time when you reflected on a mental picture that came into your mind and made you smile or even chuckle.  Think about how you felt!
M and M's (Making Memories) are a blessing!
When you scroll through old pictures and captured videos; you go to another place / another zone.  I recall one time going through an old box and in it, I found childhood, high school, and college pictures, and the next thing I know, an hour had passed, just because my heart smiled as I recalled the memories made in each picture!
You have the opportunity to make memories everywhere you go; everyday of your life; every moment of your life!  So invest in M and M's going forward.  Look around and observe and listen for moments to indulge in M and M's!
One of my absolute favorite M and M moments – Dancing In the Rain!  
(In regards to the reference to "M&Ms in this blog entry; M&Ms does not endorse this website, nor do they endorse the views expressed).
Chaitra
MTN Universal
Be
the
wEiRd
this world needs!
Follow us on
Twitter
Like us on
Facebook
Follow us on
Pinterest